Professor Benjamin Eggleton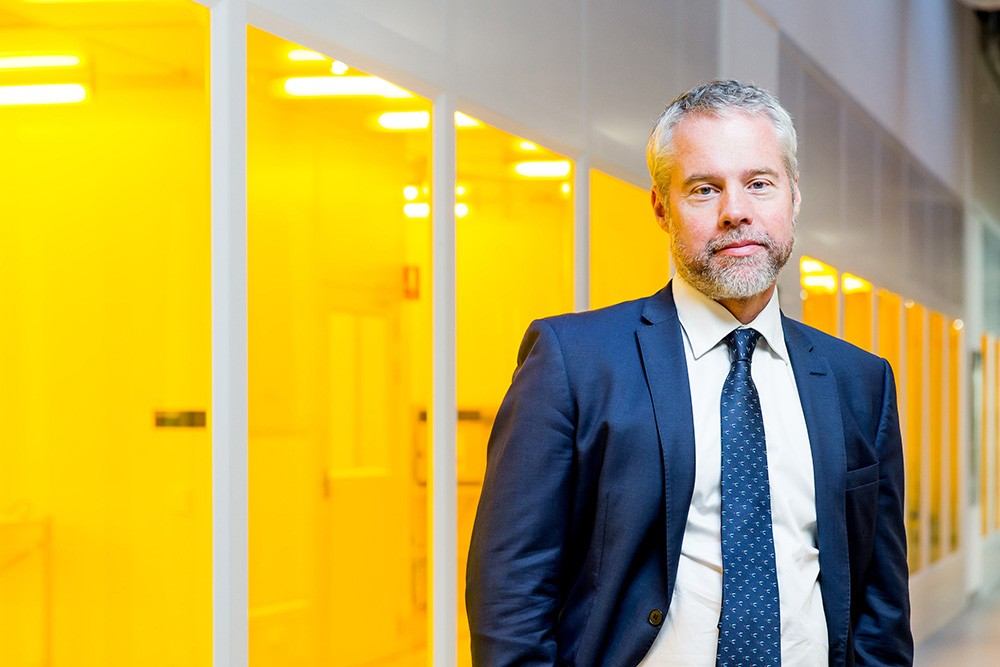 FAA, FTSE, FOSA, FIEEE, FSPIE
Pro-Vice-Chancellor (Research)
Co-Director – NSW Smart Sensing Network (NSSN)
Principal Investigator – Jericho Smart Sensing Laboratory (JSSL)
School of Physics, Institute of Photonics and Optical Science (IPOS)

Email: benjamin.eggleton@sydney.edu.au
Michael Spence Building F23
The University of Sydney NSW 2006
www.sydney.edu.au/nano
www.sydney.edu.au/science/people/benjamin.eggleton.php
Professor Eggleton is a leading physicist in integrated nanophotonics and nonlinear optical physics and has made seminal contributions to the fields of optics, photonics and optical communications technology.
Before serving as the Director of The University of Sydney Nano Institute and Co-Director of the NSW Smart Sensing Network (NSSN), Professor Eggleton was the founding Director of the Institute of Photonics and Optical Science (IPOS) at the University of Sydney. He was previously an ARC Laureate Fellow and an ARC Federation Fellow twice. In addition, he was the founding Director of the ARC Centre of Excellence for Ultrahigh bandwidth Devices for Optical Systems (CUDOS) from 2003-2017.
During nearly 30 years of doing research, he has made significant advances in nonlinear optics, waveguides, soliton physics, and fundamentals and applications of slow light. He has also made important contributions to optical communications technology with applications to ultrafast and ultra-broadband and energy efficient information signal processing devices that are chip-based.
Dr Ayu Saraswati
Senior Machine Learning & Data Engineer
Email: ayu.saraswati@nssn.org.au
Building A28 – School of Physics
The University of Sydney NSW 2006
Dr Timothy Bui
Senior Clean Room Process Development Engineer
Email: cong.bui@sydney.edu.au
Building A28 – School of Physics
The University of Sydney NSW 2006
Ms. Harjit Rana
Design Lead Facilitator
Email: harjit.rana@sydney.edu.au
Building A31 – Sydney Nanoscience Hub
The University of Sydney NSW 2006
Mr. David Powers
Senior Industrial Designer
Email: david.powers@sydney.edu.au
Building A28 – School of Physics
The University of Sydney NSW 2006
Ms Calla Klafas
Senior Research and Development Engineer
Email: calla.klafas@sydney.edu.au
Building A28 – School of Physics
The University of Sydney NSW 2006
Ms Simone Kingston
Research Associate – Webmaster
Email: simone.kingston@sydney.edu.au
Building F13 – Anderson Stuart
The University of Sydney NSW 2006
Mr. Jack Liang
Senior Electronics & Development Engineer in Prototyping
Phone: +61 2 8627 9693
Email: jack.liang@sydney.edu.au
Building A28 – School of Physics
The University of Sydney NSW 2006
Mr James Coyte
Senior Electronic Engineer
Phone: +61 2 8627 9268 
Email: james.coyote@sydney.edu.au
Building A28 – School of Physics
The University of Sydney NSW 2006
Mr Matthew Garrett
PhD Student (Casual)
Email: matt.garrett@sydney,edu,au
Building A28 – School of Physics
The University of Sydney NSW 2006
Mr Nicholas Athanasios
PhD Student
Building A28 – School of Physics
The University of Sydney NSW 2006
Dr Atiyeh Zarifi
Optoelectronic Engineer
Email: atiyeh.zarifi@sydney.edu.au
Building A28 – School of Physics
The University of Sydney NSW 2006
Mr Tom Corne
Research and Development Engineer
Email: tom.corne@sydney.edu.au
Building A28 – School of Physics
The University of Sydney NSW 2006
Ms Kimi Izzo
Electronics & Development Engineer
Email: kimi.izzo@sydney.edu.au
Building A28 – School of Physics
The University of Sydney NSW 2006
Ms Caitlin Zou
Senior Project Officer
Email: caitlin.zou@sydney.edu.au
Building A28 – School of Physics
The University of Sydney NSW 2006
Ms Reena Parihar
Visiting PhD Student
Email: reena.parihar@sydney.edu.au
Building A28 – School of Physics
The University of Sydney NSW 2006
Mr Matéo Yerlès
Visiting Research Student
Email: yerles.mateo@sydney.edu.au
Building A28 – School of Physics
The University of Sydney NSW 2006
Previous Staff & Students
Dr Atiyeh Zarifi
Postdoctoral Research Associate
Dr Zihang Zhu
Visiting Researcher
Mr Gaurav Agarwal
Research Assistant
Mr Max Kiewiet
Visiting Research Student
Dr Peter Krug
Scientific Consultant
Mr Eyder Mauricio Loango Alegria
Lab Assistant
Ms Inka-Maria Bane
Project Administrator – NSSN
Mr Meritxell Cabrejo Ponce
Visiting Research Student
Mr Guo Xin
Visiting Research Student
Mr Jingxiang Zhou
Visiting Research Student
Mr Andres Cuellar
Lab Assistant
Mr. Yuanfei Zhang
Visiting Research Student

Ms Michelle Wang
Honours Student
Dr Yang Liu
Postdoctoral Researcher
Mr Udai Rathore
Research Assistant
Mr James Arnall
Research Assistant
Dr Zhitao Xiong
Research Theme Leader
Mr Samuel Jakes
Research Assistant (Software Developing)
Mr Luke McKay
PhD Student
Ms Kate Nguyen
Project Administrator – Eggleton Research Group
Dr Shouyi Xie
Postdoctoral Research Associate
Mr Victor Zdanowicz-Muchlado
Senior Software Engineer
Mr Andrew Stasiak
Electronics and Development Engineer- JSSL
Ms Alison Haire
Senior Full-stack Developer
Ms Vera Brinkel
Research Administration Officer – Eggleton Group
Mr Jimmy Tran
Electronics Engineer – NSSN
Mr Ivan Chua 
Business Development Manager – NSSN
Mr Lachlan Goulden
Research Assistant – Casual
Wiwid Howat
Senior Project Officer
Mr Mingqian Chen
Research Assistant – Casual
Mr Oliver Bickerton
Research/Lab Assistant
Govert Neijts
Visiting PhD Student